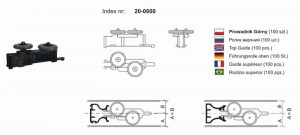 Agat is a profile in the 20 series system, which allows for the construction of doors, which move by sliding along the top and bottom tracks. It is popular among the people who value rounded forms. Agat is one of the most popular sliding-door systems.
Characteristic features:
– Agat profile shape
This is an aluminum profile with rounded shapes. This profile may be fitted with a rod holder, which facilitates the comfortable sliding of the door.
– board or mirror inserts
The insert material for the door leaf may be 10mm laminated boards, as well as 4, 5 or 6 mm glass/mirror.
– door division
The division of inserts of door leaves may be done with the use of the joiner rail.
– imitation of divisions
An imitation of the door leaf insert division may be made with the adhesion of an ornamental aluminum strip on the surface of the insert with the aid of foam tape.
– Short and long-haired buffer strips
Adhesive buffer strips muffle vibrations when closing doors and prevent dust from entering the interior of the closet.
– anti-jumping function on bottom rollers
The bottom rollers are equipped with an anti-jumping system, i.e. preventing the door from falling out of the bottom track.
Owing to the rollers set on bearings, the doors move quietly and lightly.
– the roller system is not externally visible
This system includes the design of a roller system, placed inside the horizontal profile. Owing to this, transparent glass may be used as the door insert.
– regulation of door height
Door height may be regulated, i.e. increased or lowered, which allows it to be better adjusted to the side wall.
– pneumatic closing mechanisms
Pneumatic closing mechanisms may be installed in the top track . The closing mechanism stops the doors and closes them softly.
– concealed mounting of the bottom track.
The bottom track is fastened to a plastic strip fixed to the floor, which is why the assembly screws are not visible.
– a wide selection of profile colours
The profiles are made of aluminum alloy, anodised on the outside in colours AN, AS, AZ or lacquered in colours BI and CZ. The profiles are also veneered in the following colours: BU, JL, OR, OT, WE, MR, KL.